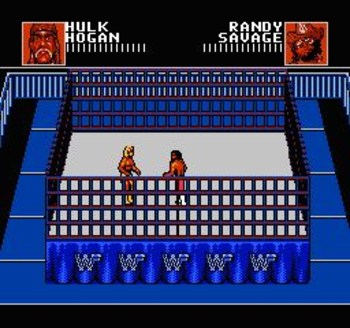 This weeks cool internet stuff features a little bit of a rant. This week big news was made by our government because of legislation that they have been trying to pass. The anti piracy bills SOPA and PIPA are a threat to the internet as we know it. Do not get me wrong I am against piracy the same way most podcasters and bloggers are but this bill is way too invasive and would be a threat to how most of us operate. Any videos and music that is used on this blog and our podcast are only for entertainment purposes and to enhance the story that we are telling. If anything I want to bring more attention to the producers of this content.
Road Warriors vs The Sky Scrapers
This was a classic showdown with the Road Warriors and The Sky Scrapers that ended with LOD having a confrontation with another Teddy team Doom. Notice one of the Sky Scrapers Mean Mark, you may know him today as The Undertaker.
Jim Cornette On Johnny Ace
After watching another classic promo on this weeks Raw by CM Punk it made me think of this Jim Cornette interview. He gives his view of how Johnny Ace came to power in the wrestling business... Funny stuff
Colt Cabana Creative Has Nothing For You
Colt Cabana and Marty DeRosa duel it out in these comical sketches celebrating the relationship between wrestlers and writers. Directed and edited by Michael Sanchez (lifejazzfilms.com) Written by Colt Cabana (welovecolt.com) ; Marty DeRosa (comediansyoushouldknow.com)
The Funkasaurus, Ernest the Cat & other shuckers/jivers in pro wrestling
The Cold Slither podcast has a wonderful post on their web page where they take a look at shuckers and jivers in professional wrestling. Featured are guys like Flash Funk and Rikishi but I can't do it justice so I recommend you to check it out.
The Latest Cold Slither Podcast Episode