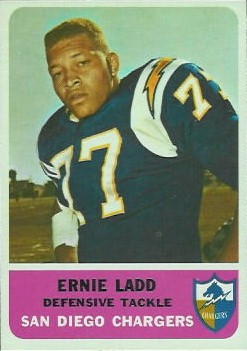 Being that is it is black history month, I figured I would showcase some of my favorite black wrestlers of all time. I felt there was no better way than to start this series off with Big Cat Ernie Ladd. An American Football League (AFL) and WWE Hall of Famer.
At 6'9" and 315 pounds, Ladd was arguably the biggest and strongest man in professional football during his era: 52-inch chest, 39-inch waist, 20-inch biceps, 19-inch neck, 20-inch calf, and size 18D shoes.
A proud Alum of Grambling State University, Ladd played in the
A.F.L. for eight years, with the
San Diego Chargers
(1961-65), the Houston Oilers (1966) and the
Kansas City Chiefs
(1967-68). In the years before the A.F.L. merged with the N.F.L. in 1970, he played in four A.F.L. championship games before becoming a full-time wrestler.
Known for his immense size and power, it was a natural for Ladd to engage in feuds with other giants, including a famous feud with
André the Giant
(whom Ladd referred to as "Andre the Dummy" or "The Big Fat French Fry" during interviews). In certain areas, Ladd's wrestling nickname was "The King", and he would wear an ornate crown to emphasize it.
[
1
]
. In other wrestling associations, he was "The Big Cat," and walked in with a big cowboy hat.