In today's wrestling scene one thing fans may not be familiar with is the idea of the manager. Growing up in the 1980's they were an important part of the business. Guys like Jim Cornette, Sir Oliver Humperdink and Gary Hart helped make superstars even more larger than life than pro wrestlers already appeared to be. They talked for wrestlers who were not that good on the microphone and able to add creditability to new wrestlers in the promotion. The greatest of all time at this lost art was WWE Hall of Famer Bobby The Brain Heenan.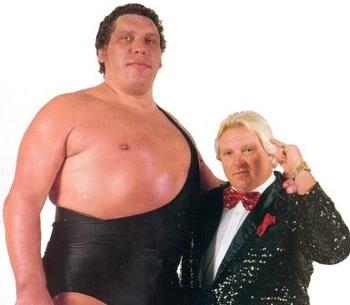 With Wrestlemania coming up all of my blogs will focus around this fantasic event. Heenan is one of the reasons this event has grown to massive heights. The early Wrestlemania's featured Heenan and his men and usually taking on the biggest star of that era Hulk Hogan. Heenan was a master on drawing heat to his charge and himself. The biggest and best example of this was the epic Hogan vs Andre The Giant match for Wrestlemania 3. Not only did this match pack 93,000 fans in the Pontiac Silverdome to set a world indoor attendance record but helped launch wrestling to the next level.
The two mega stars in the Main Event set up such an epic event. Andre for most party of his career was considered a babyface. So to take on Hogan he needed a heel turn. No other manager than Bobby Heenan could help produce such heat against the beloved Andre.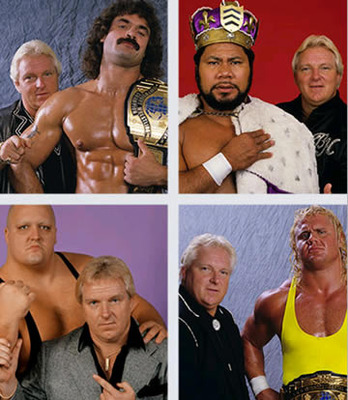 Heenan's stable known as the "Heenan Family" and always featured the best of the best that sports entertainment had to offer. Names like King Kong Bundy, Mr. Perfect, Big John Stud and Ravishing Rick Rude were all managed by Heenan at one time. He was definitely good and enhancing the show and selling tickets. Fans would come from far and wide to boo him and hopefully see him get his just due. A popular chant from the fans would be the one of "Weasel" and his response to the chants would really push the fans even further. When he had to get in the ring and take a bump from the massive babyfaces he could really sell.
Also Bobby had an excellent run a broadcaster in professional wrestling in the WWE and WCW later in his career. His most memorable times was when he was working with the late great Gorilla Monsoon. Heenan replaced Jesse Ventura on Prime Time Wrestling and All American Wrestling, aired on the USA Network, teaming up with Monsoon. As a one of the best color commentators of all time and coined the term "Broadcast Journalist". Heenan gave a different element to the broadcast as his open support for the heel character was different spin on how wrestling was called. He only could be contained by the "Will you stop?" of Gorilla Monsoon.
Whether it is referring to fans as "humaniods" or jobbers as "ham-eggers" his catch phrases like everything he had ever done in his career was legendary.
Classic Heenan Promo
He has written two career memoirs, 2002's Bobby The Brain: Wrestling's Bad Boy Tells All, and 2004's Chair Shots and Other Obstacles: Winning Life's Wrestling Matches which has an introduction by Ric Flair. Both books were co-written by Steve Anderson.
In 2004, Heenan was inducted into the WWE Hall of Fame shortly before WrestleMania XX.
Check out
:
www.wwe.com
www.wweshop.com