One thing I have heard over and over again leading up to this Wrestlemania is how The Rock vs John Cena is the biggest main event in history of the event. Of course every year they like to tell you how you are seeing history and every main event is set to be a classic but let ease your mind that this is not the biggest main event ever at a Wrestlemania. How do I know? Well I will give some previous main events that were larger in scale and did not have the benefit of one year of promotion.
Hulk Hogan vs The Ultimate Warrior
Wrestlemania VI in the Toronto Skydome feature two of the biggest superstars of an era. This is one of the first time a two babyfaces went at it in the Main Event on the big stage. There was definitely a divide among the WWF fan base. Were Hulkamanics going to win out over the Little Warriors? This was the first ever threat to the idea of Hogan being the undisputed man in the WWF. The man who headlined the previous 5 big shows. Wrestlemania was making new historic ground as this was the first ever Mania held outside of the United States. The match also was the first time we a saw a title for title match as The Warrior was the

Intercontinental Champion and Hulk Hogan held the world title.
Stone Cold vs The Rock WM17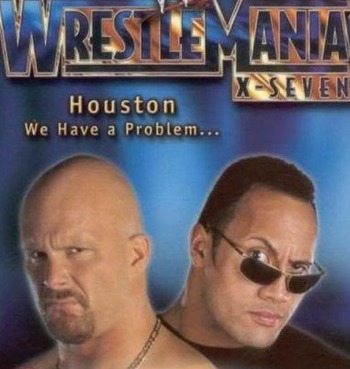 Although these gentlemen have faced off at 2 other Wrestlemania's none was bigger than their match at Wrestlemania 17 in Houston. Had they faced in Wrestlemania before and for the title? Yes they had. This time it was different because of not only their individual popularity but the new found popularity of the WWF. This was the height of the Attitude Era and WCW was on its last legs. There were two men who had led the charge against the Turner juggernaut in the famed Monday Night Wars.
Hulk Hogan vs Andre The Giant
There is no bigger main event than the irresistible force meeting the immovable object. Andre The Giant vs Hulk Hogan sold out the Pontiac Silverdome for Wrestlemania III. This was the match that was used to sell 93000 tickets and push the WWF to the next level. Andre The Giant was the unquestioned biggest attraction in professional wrestling and had been for some time. Hulk Hogan had been the world champion for 3 years by this time and taken down every foe to this point.
This match served as the official passing of the torch as the wrestling business was completely shifting gears. As the territory system was at the end of the line and cable was changing the entire business, this match put the wrestling in Hogan's hands. This main event solidified Wrestlemania as an institution in the world of wrestling.
Written By
Keith Holt Jr
Follow on Twitter -
@Kholtjr