This year it appears that Wrestlemania is missing a major piece. There does not appear to be the major celebrity involvement in this years event. Not that its an essential element but it has always been a big part of the event. No some may argue that The Rock is a celebrity but my position that he is a member of the WWF family who just happens to have a pop culture presence.
Is this a diss to Maria Menounos but she does not really move the meter. The past celebs like Refrigerator Perry, Mr. T or even a Snooki. These people had a large appeal and cross over many audiences. It was rumored that Shaquille O'Neal was going to have some involvement but I am not hanging my hat on that one. The WWF would not wait this long to use such a big name.
In the spirit of the Wrestlemania celebrity I figured I would put together a short list of the most important celebs at the event.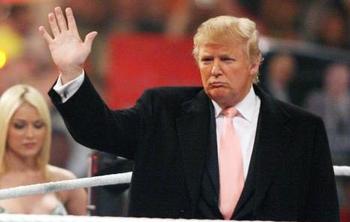 Despite my personal feeling about Trump(
douche-bag
) he has been a big time contributor to Wrestlemania. Starting at Wrestlemania's 4 and 5 where he hosted them at Trump Plaza in Atlantic City. Most recently The Donald was apart of Wrestlemania 23 where he participated in The Battle of the Billionaires with Vince McMahon. This is one of biggest events in the history of Mania. At the time his show the Apprentice was at the height of its popularity and brought a lot eyes to the event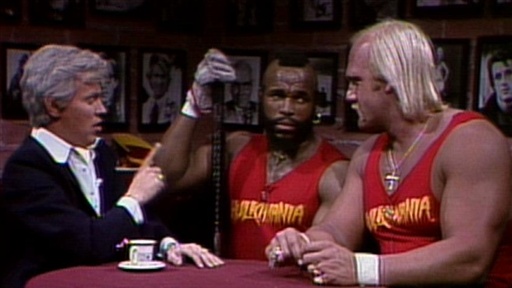 The 1st and 2nd Wrestlemania's featured one of TV's biggest stars of the 1980's. Mr T's presence at the big event maybe the most important celeb involvement in the history of Mania.
As a big part of the first ever main event he was critical to the success of Wrestlemania. If the first ever was not a big success the WWF would have been in big trouble. The A-Team was one of the biggest shows at the time and gave the event mainstream credibility. He and Hogan did a lot of mainstream press and shows like Saturday Night Live.
If there is another celeb that can take credit for the major cross appeal of Wrestlemania it is Cyndi Lauper. The Rock N Wrestling connection was one biggest keys to the launch of the event. The cross between the wrestling and MTV audiences was a major key to the kick off to wrestling's big event.
Happy 316 Day Ring Time Podcast
Written By:
Keith Holt
Twitter - @Kholtjr