Just in case you missed it there is a small twitter feud going on between pop singer Chris Brown and WWF superstar CM Punk. Basically to get you caught up after last Sunday's WWF Elimination Chamber a twitter exchange started between Chris and Punk. The 1st shot was fired by Straight Edged Superstar.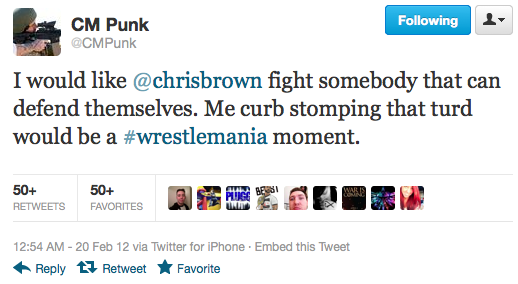 Not to be out done Brown sent out this quip and then deleted it. "@CMpunk needs more followers. He's such a leader! Not to mention the roids hes on has made it utterly impossible for him to pleasure a women."
Now both parties have hurled accusations at each other that they are both individually sensitive about. Chris hate for people to talk about how he beat down his ex girlfriend and always finds a way to make situations worse when he responds too them.
Punk being a professional wrestler has had to deal with people throwing the steroids accusations at him. In fact Punk's entire career he has maintained that he is Straight Edged. Which means the he does not use alcohol or any other type of drugs. This has been verified by almost ever person in the wrestling business that has encountered him.
Ever since then it has been on and popping. Which has also caused members of the Chris Brown #teambreezy crew and wrestling fans to go at each other on twitter. Even Hall of Fame wrestling The Iron Sheik has been involved in the spat by going after Chris Brown and his followers.
Full disclosure I am not a Chris Brown fan and hate the entire existence of #TeamBreezy. I think that they are mindless fans that make excuses for a dude because he can dance. Am I judging them "yes" and what? That doesn't make me wrong. Brown is a whiner and cries all the time and does not take responsibility for his own actions. The saddest thing is that he has such a huge following of young men and women who will think this is the way to behave.
I am a huge wrestling fan and think that Punk is one of the great performers of the last decade. He has the potential to take wrestling to new heights.
I have had mixed feelings about the entire situation. I am pleased that many people in the wrestling world have spoken out against Brown and most notably speaking out against violence against women. That being said this has become a media circus and now I am afraid that people are about to start seeing dollar signs.
Every major news organization from the Huffington Post, The Chicago Tribune and NY Daily News. Not to be out done the WWE themselves have put up a big write up on their site. There was also mention of it on the live Smackdown broadcast. What I hope deep donw in my heart that this does not become some kind of work. This should never become an angle in the business and I definitely in the WWF if they put any money in the pocket of Chris Brown. It would send message they don't take violence against women seriously.
Latest Ring Time Podcast