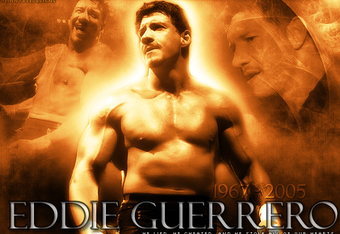 Eduardo Gory "Eddie" Guerrero was born into one of the wrestling's most legendary families. Eddie was just not a Guerrero but became the Guerrero that would excite crowds all over the world. It has been 6 years from yesterday that we lost this wrestling legend. Like a lot of his peers his life ended tragically too short.
I am not going to go to deep into a Eddie bio but just share some of my thoughts and feelings. I have been a fan of his since his WCW days. In recent years and thanks to the internet I was able to see a lot of his ECW and Japan work. I admired that was part of a group of wrestlers who honed their craft around the world. Like his peers Jericho, Benoit and Mysterio he has wrestled in every possible place you can only enhancing his legacy along the way.
My most memorable time of watching Eddie was during the his time on Smackdown from 2003-2005. This is in my estimation the best period of Smackdown from a pure wrestling standpoint. From beginning to end of the 2 hours you would get top notch matches from a roster that had names like Brock Lensar, Kurt Angle, Edge, Rey Mysterio, Shelton Benjamin ect... Always at the top tier of that list was Eddie. He had all elements inside the ring and outside the ring down pact. He could not only give you a good match but could cut a good promo. He could be serious and or comical and you believed him every time regardless.
Away from the lights Guerrero encountered various substance abuse problems, including alcoholism and an addiction to painkillers. What gets lost in talking about his death was that was not a result of his passing. Eddie was beginning to make a turn for the better in his battle with substance abuse. An autopsy revealed that Guerrero died as a result of acute heart failure due to arteriosclerotic cardiovascular disease.
Los Guerreros vs Worlds Greatest Tag Team
Eddie DVD's
Cheating Death, Stealing Life — The Eddie Guerrero Story (DVD, 2004)
Viva La Raza: The Legacy of Eddie Guerrero (DVD 2008)