If you have watched the Top 50 WWE Superstars of All Time DVD you will notice that the #1 Superstar is Shawn Michaels. This list was voted on by the active WWE Superstars. Most list will have somewhere in their top 5 and all will have him at least in their top 10. If you are looking a list that does not have Mr. Wrestlemania in at least their top 10 of all time, just know that the publication or person knows nothing about professional wrestling. It had to be a now brainer for the WWE to name Shawn as a first ballot Hall of Famer.
Whether you have been following Shawn when he on half of the Midnight Rockers(Rockers in WWE), him co founding DX or taking on the Deadman at Wrestlemania's I am sure you were greatly entertained by this master of the ring. He could have a great match with just about anybody under any circumstance.
One of the biggest things that I liked about Shawn Michaels since his return was that he was not afraid to share his faith with us. Sometimes as Christians we are scared to let people know how God has moved in our lives and touched and changed us. By doing this he gave a lot of inspiration to those of us who have fallen short and trying to better ourselves everyday.
Some of the younger fans may not have seen some of Shawn's great matches such as the Iron Man Match with Bret Hart or him being the first main to go the distance in a Royal Rumble match to win it all. One of his most popular matches was his Ladder Match with Razor Ramon at Wrestlemania X. In todays wrestling it may not seem like a big deal but at that time Ladder Matches were extremely rare. What HBK did in that ring and the use of the ladder was nothing short of amazing. To quote Ric Flair "Shawn went out to the ring and had a match with a ladder, the other guy just happened to be in the ring."
Top 5 Favorite Shawn Micheals Matches
1. Shawn Michaels vs Undertaker from Wrestlemania XXV
2. Shawn Michaels vs Triple H - Royal Rumble 2004/ Last Man Standing Match
3. Shawn Michaels vs Bret Hart - 60 Minute Iron Match from Wrestlemania XII for the WWF Heavyweight Championship
4. The Rockers vs Orient Express - Wrestlemania VI
5. Shawn Michaels vs Razor Ramon for the Intercontinental Championship at Wrestlemania X
Career Accomplishments
AWA World Tag Team Championship
(2 times)– with Marty Jannetty
WWF Championship (3 times)/World Heavyweight Championship
(1 time)
WWF European Championship
(1 time)
WWF Intercontinental Championship
(3 times)
WWF/E World Tag Team Championship
(5 times)– with Diesel (2), Steve Austin (1), John Cena (1), and Triple H (1)
WWE Tag Team Championship
(1 time)– with Triple H (1)
World Heavyweight Championship
(1 time)
Royal Rumble
(1995, 1996)
Fourth Triple Crown ChampionFirst Grand Slam ChampionWWE Hall of Fame
(Class of 2011)
HBK gets his Hall of Fame Ring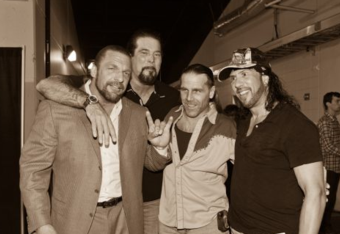 For More on Shawn Micheals
http://twitter.com/#!/shawnmichaels_
http://www.theshawnmichaels.com/
http://us.wwe.com/superstars/halloffame/inductees/hbk